RoMaCraft Tobac Weaselitos Bundle
Check out our new two bundles of 15 Weaselitos and 3 German exclusives from Wunderlust and Neanderthal.
Description
This sampler has three German exclusives and fifteen weaselitos to familiarize yourself with some of the RoMaCraft Tobac line up. Get to know the small but powerful Weaselitos. They are pre-cut fiery and fiesty. If you like bold cigars with a lot of flavor then look no further. Additionally, you have the choice between trying the Wunderlust or the Neanderthal line.
The Neandethal Sampler: has 15 Weaselitos with 5 Mexican, 5 Broadleaf, 5 Ecuador and 1 Neanderthal HS, 1 Neanderthal JFC and 1 Neanderthal KFG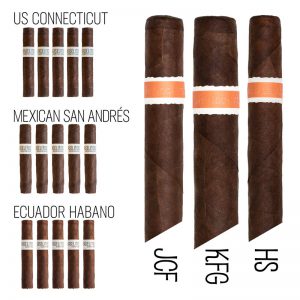 The Wunderlust Sampler: has 15 Weaselitos with 5 Mexican, 5 Broadleaf, 5 Ecuador and 1 Wunderlust Toro, 1 Wunderlust Robusto and 1 Wunderlust Petite Belicoso